TSA Approved Cable Luggage Locks, Re-settable Combination with Alloy Body
$12.75
| | |
| --- | --- |
| Brand | Forge |
| Special Feature | TSA Approved |
| Lock Type | Combination Lock |
| Material | Alloy Steel |
| Color | Black 2 Pack |
MOST DURABLE TSA RECOGNIZED AND ACCEPTED LOCK. Forge locks are designed from the ground up to be the toughest luggage locks around. Our special alloy lock bodies, tightly braided and sheathed steel cables, hardened steel cable lock ends as well as patented internal mechanisms can take such a pounding that we back our product up with an unconditional lifetime guarantee. If you can find a way to break these locks, we'll gladly refund or replace them.

EASY TO SET 3 DIGIT COMBINATION. Our combination locks have an easy to use lever mechanism to set the combination. Simply set the locks to the factory default combination of 0-0-0, flip the lever with a pen and enter your personal combination. The combination can also be changed as many times as you like. Never worry about accidently changing your lock to the wrong combination or your combination being changed during rough handling.

SECURITY WITH THE FLEXIBILITY OF A CABLE LOCK. Cable locks can handle situations that normal lock shackles simply can't. Our lock's cable is thin enough to thread through all standard sized zippers and hard case lock holes but strong enough to protect your belongings. At a length of 4 in from end to end and an internal looped length of 1.5 in when locked, our cable offers the flexibility to secure nearly any suitcase, hard case, gun case, etc. on the market.

ALWAYS RELOCKED, ALWAYS PROTECTED. Most TSA locks on the market do not need to be re-locked by a TSA agent after their inspection is completed. With our TSA luggage lock, the agent has to re-lock your suitcase to remove their key. With Forge you never worry about your suitcase locks being left open again.

MANY USES WITH LOTS OF VARIETY. Forge travel locks can be used on a wide variety of items besides suitcases or luggage. These locks can be used on a briefcase, gym locker, purse, backpack or laptop bag.
Free shipping on orders over $50!
Satisfaction Guaranteed
No Hassle Refunds
Secure Payments
Description
---
Product Description

Forge is a quality TSA locks distributor, it is also a small business based in Wyoming since 2015. We build first-rate, stylish locks for your travel needs. We bring our customers the best in products, services and after purchase support. TSA locks are a great compromise between personal security and national security. They allow travelers to maintain some level of control over who gets into their luggage while affording TSA officers the ability to open bags if they need to do so.
Airport Theft is More Common Than You Think. Between 2010 and 2014 the TSA reported more than 2.4 million dollars in missing items at American airports alone. 25% of these thefts happened in the baggage pick-up areas.
TSA Locks Work as an Excellent Deterrent. With so many bags unlocked, other people present and limited time to work in, thieves will pass locked bags by in favor of easier unlocked targets.
An Alloy Body Designed for Tough Work. Forge locks use a 100% alloy body which is built with the stress of airport handling in mind. Top Quality Locks!
Forge — Licensed Distributor from Travel Sentry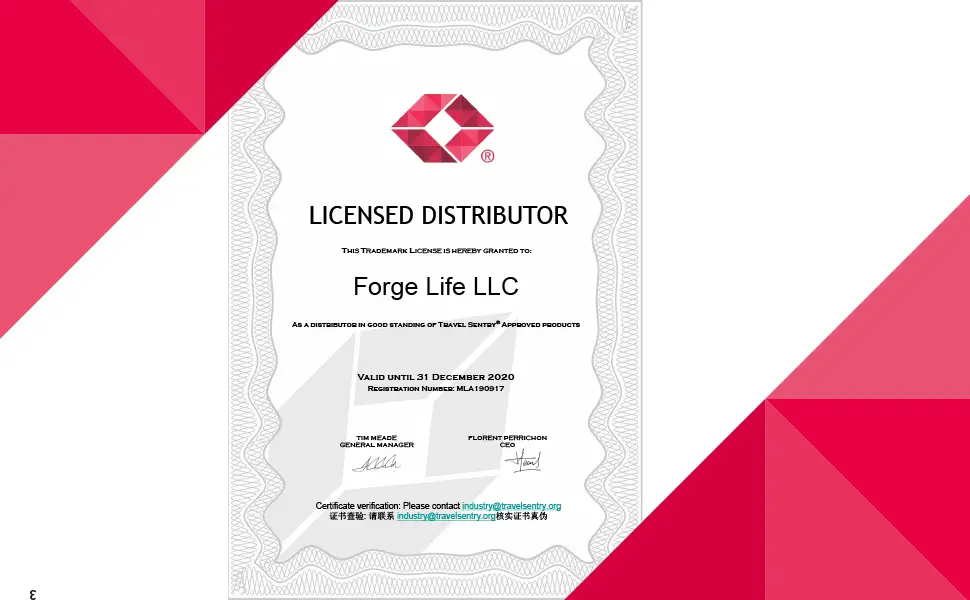 How it works
A global security system that allows luggage to be locked, whilst permitting security authorities to open and inspect the contents, without damage to the lock, or inconvenience to the passenger.
When buying luggage locks, passengers choosing to buy products equipped with a Travel Sentry Approved lock complies with regulations and won't face the risk to have their luggage broken open by security.
2. Which countries are using our system?
Dominican Republic, Panama, Cayman Islands, Albania, Belgium, Bulgaria, Czech Republic, Estonia, Germany

Hungary, Latvia, Luxembourg, Montenegro, Poland, North Macedonia, Serbia, Sweden, Austria, Croatia

Bosnia & Herzegovina, Denmark, Finland, Greece, Iceland, Lithuania, Malta, Netherlands, Norway, Romania

Switzerland, Israel, Ivory Coast, Togo, Turkey, UAE, Australia, China, Japan, New Zealand, South Korea

USA, Aruba, Brazil, Canada, Japan, Israel, Finland, Germany, Austria, Belgium, South-Korea, Slovenia
3. Travel Sentry Approved- simply smarter
Using Travel Sentry Approved locks allows your luggage to be unlocked, inspected and relocked by security authorities during security screening, without damage.
4. Look for the red diamond
All our TSA locks bear a Red Diamond logo. Each TSA lock has a special code TSA001 to TSA008, which is used by the TSA, CATSA and other security agencies to know which secure tool to use to open the lock.
5. Travel for work or pleasure? Always keep your belongings safe with a Travel Sentry Approved lock.
Not Just a TSA Lock

Multiple Uses:

Forge's cable locks can be used when traveling on your carry on or check in luggage, suitcase or backpack, a gym locker, duffle, golf or carry on bag, briefcase or school locker Etc.

Prevent the Grab-and-go Theft

– Keep your personal possessions secure in the airport, fitness center, hostel, hotel, train station and other public places.

Braided Steel Cable

The Flexibility of a Cable.

Handles situations that normal shackle locks simply can't. Works great on hard cases such as Pelican equipment cases and gun cases.

A Cable that Doesn't Sacrifice Security

. Hardened Steel locking mechanism gives a pull weight of over 220 pounds. 70 to 100 pounds more than most other locks.

Zinc Alloy Body

Will Take a Beating

. Will not dent during airport handling.

Lightweight Material

. Low weight lock body that doesn't sacrifice tensile or impact strength.

No Plastic, No Problem

. 100% Zinc Alloy Body. No plastic weak points.
Easy Set Combination Switch

Set the Right Combination and Keep it There

. Set your combination without worrying about accidentally changing it to the wrong combo. Never worry about the combination changing during your trip.

No Special Tools Needed

. Simply enter the current combination and flip the switch with a pen to set a new combination. No screwdriver needed.

High Contrast Dials

Chrome Dials are Too Shiny

. Chrome dials reflect the bright fluorescent light in baggage terminals which makes them very difficult to read.

No Reading Glasses Needed

. By using a which numeral on a black background, Forge locks are significantly easier to read in bright and low light conditions.

Stainless Steel Tumbler

Dancing in the Rain

. The low-grade steel and iron used in most travel locks will rust and freeze up if exposed to water. Our stainless-steel tumbler can be submerged in water with no negative effects.

No Brass, No Oxidation

. Other travel locks use brass in the tumbler system. Brass will oxidize and freeze up over time, especially in humid environments.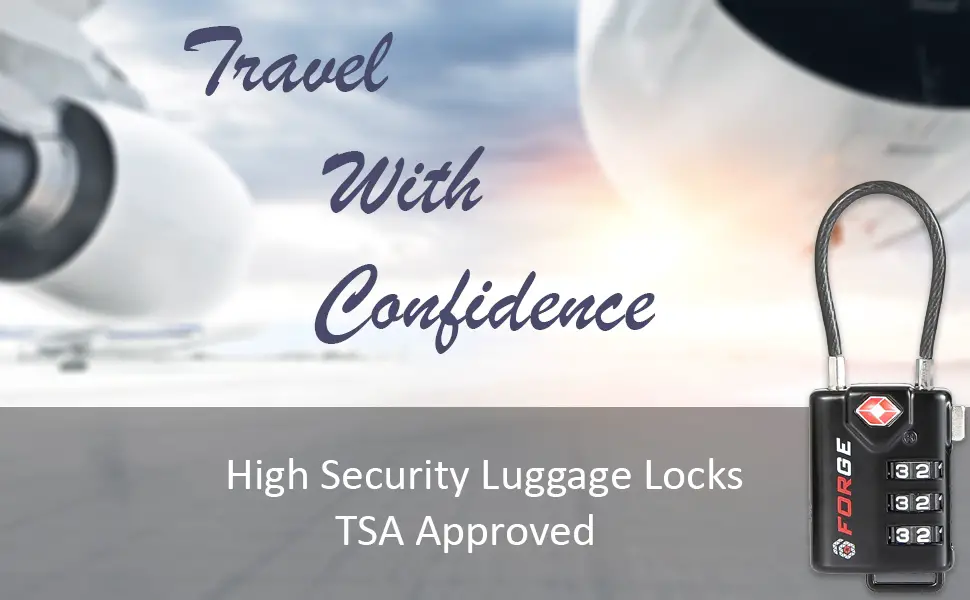 Additional information
| | |
| --- | --- |
| Weight | 0.317 kg |
| Dimensions | 3.5 × 2.76 × 0.75 cm |
| Brand | Forge |
| Special Feature | TSA Approved |
| Lock Type | Combination Lock |
| Material | Alloy Steel |
| color | Black 2 Pack |
| Finish Type | Painted |
| Shape | Rectangular |
| Control Method | Touch |
| Package Dimensions | 3.5 x 2.76 x 0.75 inches |
| Item Weight | 0.317 ounces |
| Department | Unisex-adult (luggage only) |
| ASIN | B01M5COMNZ |
| Manufacturer | Forge |